Are you a corporate reinventing it's business models or a lean start-up?
Then you will love the Process Model Canvas when you are…
incapable to transform your ambitions into reality
exhausted of the energy lost in convincing others
involved in tasks forces without sustainable progress
The Process Model Canvas will help you to successfully design…
the key activities (KA) towards the WOW factor for your clients
the connection between strategic and operational management
is a plug-in model of the Business Model Canvas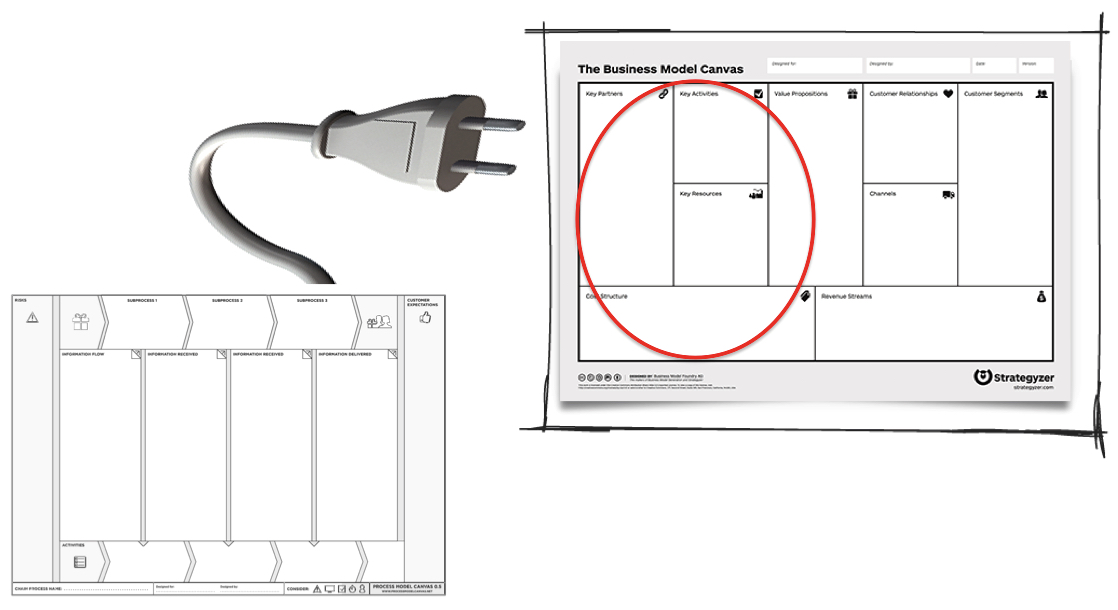 Source: The Business Model Canvas is an idea of Alexander Osterwalder and published in the book called Business Model Generation
PROCESS MODEL CANVAS;  From ambitious ideas into sustainable implementation
Organizations which used the Business Model Canvas and Value Proposition Canvas are aware of the changing world. You looked at your customer pains and gains and you anticipated on that in your Value Proposition. Possibly you discovered a new innovating revenue stream, value propositions or even a complete new business concept. cool
But, now you will arrive into the situation where you need to translate your ambitious new Business Model Canvas into your organization structure.
The operating model needs to be adopted, but HOW do you do that? How do you make this challenging next step?
The PROCESS MODEL CANVAS will help you with this, as a plug-in model at the Business Model Canvas from Alexander Osterwalder.
What are the new Key Activities (KA) Key Resources (KR) and Key Partners (KP) what is different from the current situation?
How can you design it in such a way, that your New Business Model will soon become reality?
How to improve the collaboration between the professionals, departments and business divisions in a way that your new business model will be realized?
Do you want to prevent that good ambitions will end-up with 'nothing..'?
Did you create different 'task-force' teams, but it is difficult to make the movement really happen?